Experience the cutting-edge Pocket 3, where innovation meets portability. Unveiling an impressive 1-inch CMOS sensor, this compact marvel delivers intricate imaging directly to your fingertips. The 2-inch rotatable touchscreen, coupled with full-pixel fast focusing, empowers you to effortlessly switch between horizontal and vertical orientations, providing unparalleled precision and control.
Capture the essence of every moment with the Pocket 3's remarkable 4K/120fps capability. Elevate your videography with three-axis mechanical stabilization, ensuring steady footage even in dynamic scenarios. Seamlessly adapt to any environment with a suite of intelligent features designed to enhance your shooting experience.
With the Pocket 3, immerse yourself in a world where advanced technology converges with the convenience of handheld perfection, making it the ideal companion for capturing life's moving moments with unmatched clarity and stability.

1-inch CMOS sensor
Behold the prowess of the Pocket 3's impressive 1-inch CMOS sensor—an engineering marvel designed to meticulously capture the nuances of highlight and shadow details. This cutting-edge sensor represents a paradigm shift in optical performance, delivering a substantial leap in image quality that redefines clarity and precision. Immerse yourself in the world of unparalleled visual excellence as the Pocket 3's advanced sensor technology ensures not just clarity, but also remarkable low-light performance, allowing you to capture stunning moments with unrivaled fidelity.
Capture stunning night shots effortlessly with the Pocket 3's specialized image quality optimization.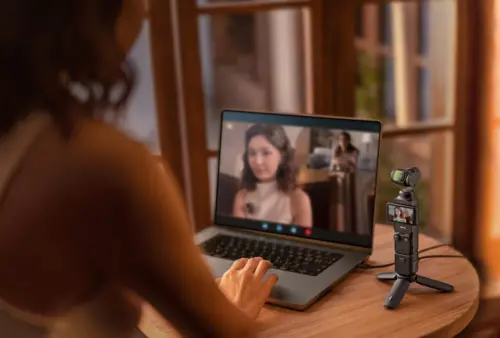 This feature breathes life into low-light scenes, rendering them with remarkable clarity and authentic color. Experience the ability to effortlessly document nighttime moments in a visually appealing manner, as the Pocket 3 ensures that even in challenging lighting conditions, your shots retain a natural and vivid appearance.
Slow-Motion 4K/120fps capability
Take your video recording skills up a notch with the Pocket 3's 4K/120fps feature. This capability allows you to capture experiences with an added layer of smooth detail, making your footage more dynamic and engaging. Dive into the world of slow-motion as you magnify and savor every breathtaking moment. With the Pocket 3, transform your ordinary recordings into a visual spectacle, ensuring that each frame is not just a moment but an immersive experience.
Refines exposure settings to suit various skin tones.
This intelligent adjustment ensures a direct output that beautifully highlights and illuminates your complexion, leaving you with a clear and glowing appearance. Whether you find yourself in the frame unexpectedly or intentionally, be prepared to effortlessly steal the spotlight with every shot, thanks to the Pocket 3's ability to showcase your natural beauty with clarity and brilliance.
Color modes
The Pocket 3 offers indispensable features like the 10-bit D-Log M and 10-bit HLG color modes. These advanced modes enable the recording of landscapes with a high dynamic range, showcasing scenes with precision and subtlety. The result is a rendering of accurate and delicate colors, accompanied by clear and vivid details. Elevate your creative endeavors with the Pocket 3, ensuring that your recorded content reflects the richness and authenticity of the captured environment.
The 10-bit D-Log M color mode
On the Pocket 3 goes beyond ordinary recording, capturing an impressive spectrum of up to one billion colors. With its ultra-high dynamic range, every shot becomes a canvas filled with rich detail. Whether faced with high-contrast scenarios such as sunrises and sunsets or vibrant scenes like lush gardens, the Pocket 3 ensures a natural and delicate presentation of color gradations, delivering a full-spectrum visual experience. This not only enhances the authenticity of your footage but also provides greater flexibility in post-production, unleashing a myriad of creative possibilities for your content.
HLG HDR feature on the Pocket 3
This capability enables you to capture the full beauty of a sky adorned with rosy clouds or a serene blue sea. The Pocket 3 supports 10-bit HLG video recording, providing a higher dynamic range directly compatible with HDR-enabled equipment. This ensures that your footage authentically preserves the nuances of color and contrast, allowing you to relive the breathtaking scenes with clarity and fidelity.
2-inch rotatable screen
The full-color OLED touchscreen puts all the controls right at your fingertips, making it easy to navigate through settings and functions. Whether you're initiating a shot by rotating the screen or making quick adjustments with a simple tap, the Pocket 3 ensures that you have seamless access to the features you need. Immerse yourself in the user-friendly interface, where every spin and tap translates into effortless control over your filming endeavors.
Full-pixel fast focusing feature
This advanced capability ensures that even your fastest-moving subjects remain sharply in focus with remarkable ease. Additionally, the Pocket 3 introduces a new Product Showcase mode designed to enhance your livestreaming and product showcasing experiences. This mode prioritizes the foreground, allowing for swift and smooth subject focusing, ensuring that every detail is captured effortlessly. Let the Pocket 3 be your tool for bringing your passions and products to the forefront, with precision and clarity in every frame.
Three-axis mechanical stabilization
The camera view stays rock-steady even amidst dynamic camera movements. Tailor your experience by selecting from multiple rotational speeds, ranging from the ultra-responsive Default level to the Fast level, adept at handling more intense shaking. This innovative stabilization technology ensures that your videos maintain a consistent and professional look, regardless of the level of movement, providing you with the flexibility to choose the setting that best suits your filming needs.
ActiveTrack 6.0
Pocket 3 (activetrack 6.0) is featuring an array of follow modes that include the introduction of Face Auto-Detect and Dynamic Framing. Now, with the Pocket 3, you can effortlessly produce smooth and cinematic footage using just one hand. The improved tracking capabilities empower you to capture compelling visuals with ease, whether you're focusing on a moving subject or framing a dynamic scene. Activate ActiveTrack 6.0 and unlock a new level of convenience and creative control as you navigate through various shooting scenarios, all with the simplicity of single-handed operation.
Face Auto-Detect
Tracked subjects are seamlessly and securely positioned at the center of the frame, while the camera view gracefully moves automatically and smoothly. This feature guarantees that your subjects remain in clear focus, allowing you to concentrate on capturing the moment without worrying about readjusting the framing. With Face Auto-Detect, the Pocket 3 takes care of the technicalities, providing you with a simplified and streamlined filming experience.
Dynamic Framing
Dynamic Framing is harnessing the power of the built-in golden ratio composition, this feature enables professional camera movement to effortlessly lock onto the subject, ensuring the creation of more aesthetically pleasing footage. With Dynamic Framing, the Pocket 3 takes the guesswork out of composition, providing you with a tool to enhance the visual appeal of your videos.
Basic tracking
Simply double-tap on an object to initiate basic tracking. Whether you're holding the camera casually or moving it around, rest assured that the tracked object stays securely positioned at the center of the frame. This improvement ensures a smoother and more reliable tracking experience, allowing you to focus on your creative process without worrying about maintaining stability. With just a double-tap, the Pocket 3 provides you with a hassle-free way to capture steady and well-centered footage of your desired subjects.
Audio Enhancement
The Pocket 3 incorporates a built-in three-microphone array, offering efficient wind noise reduction and the recording of omnidirectional stereo sound. This feature proves valuable in various environments, including noisy settings like concerts, where it accurately identifies sound sources, providing a more immersive audio experience. Additionally, the Pocket 3 supports the USB Audio protocol, facilitating swift connections to external microphones and monitoring earphones. This functionality adds versatility to your audio recording setup, ensuring flexibility in capturing clear and high-quality sound, irrespective of the surrounding conditions.
Compatibility and Dual Recording Capability
The Pocket 3 is compatible with the DJI Mic 2, offering a seamless connection through its built-in Wi-Fi and Bluetooth module. This functionality allows direct pairing with two DJI Mic 2 Transmitters simultaneously. This dual-person recording feature ensures ultra-clear audio capture, making it suitable for a variety of applications, including vlogs, interviews, livestreams, and more. The convenience of connecting to multiple transmitters enhances the versatility of the Pocket 3, catering to various recording scenarios with precision and clarity.
Efficient Charging and Extended Battery Life
The Pocket 3 features a fast-charging capability, allowing it to reach 80% charge in just 16 minutes. This swift charging time provides up to two hours of continuous shooting. A fully charged Pocket 3 can record up to 116 minutes of 4K/60fps footage or up to 166 minutes of 1080p/24fps footage, ensuring ample time to capture the shots you desire.
The faster charging speed, represented by the 3x increase, contributes to the overall efficiency of the charging process. With an ultra-long operating time of 166 minutes for 1080p/24fps footage, the Pocket 3 grants extended usage, allowing you to focus on your creative endeavors without interruption. Additionally, there's a 26-minute increase in operating time, enhancing the overall reliability and endurance of the device during prolonged shooting sessions.
Efficient Charging and Extended Battery Life
The Pocket 3 offers a fast-charging capability, allowing it to reach 80% charge in just 16 minutes. This rapid charging time translates into up to two hours of continuous shooting, providing ample time for capturing desired shots. When fully charged, the Pocket 3 can record up to 116 minutes of 4K/60fps footage or up to 166 minutes of 1080p/24fps footage, catering to diverse filming needs.
The notation "3x" denotes a faster charging speed compared to the previous generation (DJI Pocket 2), contributing to increased efficiency in the charging process. With an ultra-long operating time of 166 minutes for 1080p/24fps footage, the Pocket 3 ensures extended usage, facilitating uninterrupted creative sessions. Furthermore, there is a notable 26-minute increase in operating time compared to the previous generation, enhancing overall reliability and endurance during extended shooting sessions.
Conclusion
The Pocket 3 stands out as a versatile and advanced handheld camera, seamlessly integrating innovative features to enhance the overall filming experience. The incorporation of a cutting-edge 1-inch CMOS sensor ensures detailed and high-quality imaging, even in challenging low-light conditions. The 4K/120fps capability and three-axis mechanical stabilization further contribute to the camera's ability to capture dynamic and steady footage, providing users with a tool capable of meeting various filming demands.
The Pocket 3's attention to audio quality is evident with the built-in three-microphone array, minimizing wind noise and recording omnidirectional stereo sound. Its compatibility with the DJI Mic 2 and support for USB Audio protocol underscore the camera's versatility, catering to diverse recording scenarios from vlogs to interviews and livestreams.
The user-friendly interface, including the 2-inch rotatable touchscreen and full-pixel fast focusing, ensures ease of operation and precise control. Advanced features such as ActiveTrack 6.0 with Face Auto-Detect and Dynamic Framing contribute to effortless filming, allowing users to focus on capturing compelling visuals with convenience.
Additionally, the Pocket 3's efficient charging capabilities and extended battery life enhance its usability, offering extended shooting sessions without interruption. The improvements in charging speed and operating time compared to its predecessor, the DJI Pocket 2, reflect the continuous evolution and refinement of this handheld camera.
In summary, the Pocket 3 is a well-rounded device that brings together cutting-edge technology, user-friendly design, and advanced features, making it a reliable companion for content creators looking to capture life's moments with clarity, stability, and creativity.