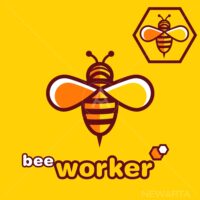 Bee symbols
Many people are fascinated by bees as this insect has been cultivated by human beings for centuries and continue to be a powerful symbol of industrious work ethic and perfection.
Many passages in the Christian bible refer to the byproduct of bees with that being the wonderful and tasty nectar they produce as honey.
Even the Egyptian ancient tombs and pyramids had traces of honey, propolis and bee pollen. The bee is known as a hard worker putting his heart and soul into the end result of creating honey and serving his queen. This makes the image of the bee a powerful statement when it comes to the attainment and reward and the ability to work hard to get results. With their ability to work harmoniously as a team effort these images can easily give your business or product logo the look of perfection mixed with a style of yellow, maroon and black meshed together to create the images you can easily order from this website.
The bee provides a symbol that represents different factors that include community, vibrant energy, and personal power.
The bee provides a symbol that represents different factors that include community, vibrant energy, and personal power. When one looks at a bee it can symbolize strength and unity as well as personal power. The ancient Druids thought that bee symbolized the sun as well as the Goddess, community celebrations, and festivals. During festivals, ancient Druids would drink mead which was usually generated by the main ingredient which happens to be fermented honey. In later times of religious expression, it was known that Christian monks would live in a beehive-shaped enclosure which were built to represent the establishment of a harmonious community. The bee works in a hive and thinks as one living entity. They build and create elaborate tunnel systems and connecting networks that harmonize their teamwork and ingenuity in establishing their goals. You can see how powerful the image of a bee and what it symbolizes.
Bee characteristics
In terms of biological characteristics, bumblebees will usually have fewer individuals in their entire colonies and they actually store less honey then compared to a honeybee.
Bumblebees are a rare insect that actually has the ability to control and regulate their own body temperature. The queen bee and her colony of loyal workers can easily shake their flying muscles to provide extra body warmth in the colder months. Bumblebees have the ability that allows them to apply their craft of building and collecting pollen and allows them to work at lower temperatures. Compared to other insects the abilities of the bee are tremendous with their collective ability to work as a unit. You can understand how the icon of a bee can attract a powerful corporate or brand logo that inspires strength, determination, and solidarity when it applies to achieving results in a team environment.
Obviously, all types of bees are productive and hard working.
The focus of the bee is working as an individual in a collective of workers that unite in a team effort.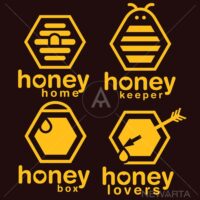 They are keen to stay completely single-minded and focused on what they need to accomplish with nothing getting in the way of their ultimate goal. What is interesting about this insect is the fact that their legs actually happen to be their most sensitive organ which incredibly enough they use to taste. What you can learn about the hard-working bee is to be reminded to slow down in life and remind ourselves to smell the flowers and enjoy the sweeter things in life. Be sure to work hard and be industrious and be sure to relax and taste the nectar of your journey as the sweet rewards that life has to bring.
There are many different lessons that we can learn from the bees. The main feature of the bee is its single-minded focus and disciplined approach to accomplishing its goals. The corporate symbol of a bee can awaken you into the moment and show that you or your business is fully engaged in all forms of workmanship, quality, and creative endeavors.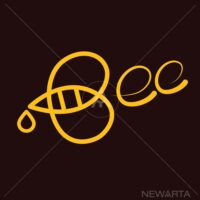 Bee logo concepts in business
From the insects i think bees are the most close to humans and we manage to work together in harmony.
The bee can actually symbolize to us and teach us that all of life is completely interdependent and united no matter how individualized we may appear to be.
There are number of business out there who using bee logo design so here i am to provide some variation of illustrations and logos.
Some people prefer black instead of maroon.
Many business owners prefer to add natural things prefer to use bee logos in their business branding not limited to apiculture to support environment and associated to their ability to work with positive results.
About bee logos and icons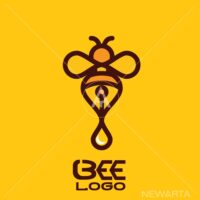 These are exclusive images that you will not find anywhere else. We will talk about the benefits of bees and the different elements that making these hard-working insects such a great resource for their ability to produce beautiful and nurturing honey while also having the ferocity to sting disabling their victim as well as themselves.
I realize maroon and yellow works very well so i incorporate in my projects.
Inside this topic i choose to represent different concepts like bees, honey, combs, hives, specimens, shapes
All pictures have redirect links to the product design so click it if you love it.
Additionally i prepared the sets ready to use for extended projects.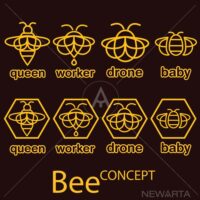 All things considered I will kindly appreciate comments on this subject and why not give me some recommendation of designs I should make in the future.